Our Staff
Nathan and Jessica Kollar
Nathan serves as our Lead Pastor and Jessica serves as our Children's Director. The Kollars have had the joy of serving the church in various capacities such as church planting, worship ministry, kids ministry, and young adult ministry in Los Angeles, various parts of Pennsylvania, and now in the Nashville area. Nathan is Ordained with the Assemblies of God and has served as an Executive Presbyter for the SoCal Network and a Partnership Developer for Church Planting Network. With years of experience in the arts, Nathan and Jessica approach what it means to pastor in a creative city with a unique perspective and grace. They live in Thompson's Station with their four children: November, Kensington, Nessa, and Clay.
Stephen and Heather Houle'
Stephen and Heather Houle' serve as our Recovery Ministers. Heather also serves as our Church Administrator. They have a relentless passion to help the lost and broken. Stephen, a Southern California native, is a songwriter, Drug & Alcohol Interventionist, and a well respected member and expert in the field of recovery. Heather, a native of Boston, is the Co-Founder of MUMlife Ministries and a Christian Speaker with years of experience leading women in ministry & recovery. The Houle's believe they have been divinely placed at GraceLand Church to minister to those in need of hope, healing, and restoration through the program of Celebrate Recovery. They live a "life beyond their wildest dreams" together in Thompson's Station with their four children: Jesse, Christian, Kick, and Sarah; and their two dogs, Junior and Rocky.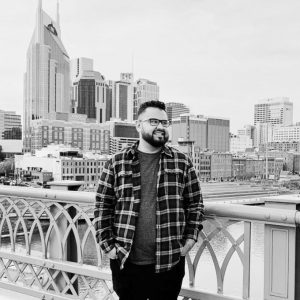 Oscar Barajas, Jr
Oscar Barajas, Jr serves as our Pastor of GraceLandChurch Español (we'd love to hear from you if interested in being a part this new start up) and as an instrumental part of our Kids, Youth, and Teaching Teams. He is originally from Phoenix, Arizona where he served in various ministry roles and studied to become a minister. He is Ordained with the Assemblies of God and holds a Masters Degree in International Community Development. With years of experience in Spanish and English speaking ministry, he approaches what it means to serve the local and bilingual church with a beautiful perspective and grace. He currently lives in Spring Hill and works within Williamson County's juvenile court system, helping the youth of our community.
Our Lead Team
Our Lead Team is made up of incredible men and women that serve the church with faithfulness and excellence in their various areas: Abby Ortiz (Youth), Whitney Cantrell (Early Childhood Development), Bethany Collins (Events and Women's Ministry), Debi Forbes (Hospitality), Pamela and Victor Legner (Senior's Ministry), Pastor Rob Ratze (Pastoral Care), Michael Miller (Prayer Team), Don Forbes (Men's Ministry), Cameron Robinson (Emergency Response Team), Stephen Strickhausen (Emergency Response Team and Youth), Bill Hardwick (IT), Eric Black (Video Production), Brad Tatum (Franklin Bible College), Matt Blackburn (Worship Admin). We also work with various worship leaders, some members of our church and others friends of our church. They include Nic and Jaci Gonzales, Kurtis Parks, Rochelle DeMint, Jessica Kollar, Andy Levine, and Matt Elenbaas.
"Each of you should use whatever gift you have received to serve others, as faithful stewards of God's grace in its various forms." // 1 Peter 4:10
You can learn more about our various ministries and how to connect with us at the links below.
Our Governance
• We are Guided by our Pastors and Leaders: Our Staff and Lead Team make the day-to-day ministry decisions of our church.
• We are Guarded by our Board: They are our watchful eye, and function as our in-house legal and financial accountability. Our current Board includes Nathan Kollar (Chair), Lauren Robinson (Treasurer), Randy Maisch, Abby Ortiz, Stephen Strickhausen, Jim Bozeman, and Don Forbes.
• We are Strengthened by Overseers: These overseers are external, pastoral accountabilities. They serve as accountability for Pastor Nathan and our Deacon Board. Our current Overseers are Pastor Rod Loy and Pastor Terry Bailey.
• We are Gifted by Members: Through the giving of time, talents, and resources, those who call GraceLand Church home enable our church to have local and global impact.
GraceLand Church functions in partnership with First Assembly North Little Rock, Tennessee Ministry Network of the Assemblies of God, Church Multiplication Network, and Urban Islands Project.